Energy Transition Resource Guide
Do you have any questions?
Energy Transition: What is it and why is it Important?
Global energy generation is driven by a variety of sources. While fossil fuels are still by far the largest share of the market, renewables are the fastest growing as both efficiencies in renewable generation and consumer demand for more sustainable sources of energy increase. Forecasts indicate that with this boom in demand, energy consumption will outpace the anticipated growth in renewables in the immediate future.
All of this is happening against the backdrop of international efforts to reduce carbon emissions, the method widely acknowledged by climatologists and governments as most effective for slowing the rise of global temperatures.
Energy transition is one way that many energy producers and consumers are taking part in this carbon reduction effort.
Private and corporate consumer demand for renewable energy will continue to rise and as technology improves in both the production of renewable energy and the decarbonization of legacy energy sources, there is real hope that this energy transition could make an impact in stemming the rise of global temperatures.
So, how can your business prepare for and take part in this transition? Below you'll find resources, case studies, and services that will help you understand why energy transition is so important and how your business can adapt and thrive in this rapidly changing landscape.
Energy Transition Explained: Why and How the World is Making a Shift
A period of energy transition is defined by the adoption of a new primary energy system. It is not an immediate change nor a full-out replacement of existing energy systems.
Energy transition is a structural change, meaning technologies are developed and/or adapted to capture, convert, and transmit this new source of energy. As the name implies, energy transitions take place over time, as any new infrastructure required takes time to design and implement.
What Is Energy Transition? Here's What You Should Know
Energy Transition in the United States
President Biden's clean energy plan is a progressive, ambitious answer to the U.S.'s contribution to rising carbon emission levels. The Biden Plan calls for the United States "to achieve net-zero emissions and a 100% clean energy economy by no later than 2050."
For American companies, the challenge has been set. Now is the time for organizations to consider their long-term strategies towards reduced energy consumption and cleaner energy sources. A greener industry isn't the only thing companies have to gain from these efforts - this can be a huge opportunity to demonstrate responsible foresight in the eyes of ESG investors, shareholders, and the public.
In February of 2022, the United States published and committed to the "Strategy to Secure the Clean Energy Transition."
This strategy centers around goals to reduce net greenhouse gas (GHG) emissions 50-52% below 2005 levels by 2030, create a carbon pollution-free power sector by 2035, and achieve net zero emissions economy-wide by no later than 2050.
Key to achieving these goals is investing and building a secure and resilient domestic supply chain for the energy transition.
Global Spotlight: European Energy Crisis
Due to the energy crisis, countries are being forced to look for new ways to move, produce goods, heat and cool homes, and keep rising energy costs down for citizens. Multinational businesses now also have to think about where their energy is coming from, how to diversify it to avoid shortages, and how to cut costs all at the same time to keep the lights on. Governments and businesses in Europe are being forced to evaluate their energy plans and look toward a more sustainable future.
Energy Transition Risks & Challenges
If the transition to a low-carbon economy were easy and painless, it would have already been completed long ago. Any realist needs to acknowledge that it's inevitable to face challenges and sacrifices on the path to a better future.
Facing these challenges is worthwhile primarily because of what the opposite course of action (or lack of action) means. Businesses that don't prioritize energy transition as part of their sustainability strategy are putting themselves at the greatest risk, for two principal reasons – one more optical, one more practical.
Brand reputation and corporate responsibility. Customers, investors, and communities are scrutinizing industries more than ever when it comes to key sustainability priorities like this one. The rise of ESG criteria is urging more transparency and accountability. Energy poverty is emerging as a critical issue for societies around the world.
Costs and business continuity. There are concerns that energy demand could begin to outweigh traditional fossil fuel supplies. We've already witnessed spikes in fuel prices due to converging global factors. There's also the eventuality of carbon taxes and other regulatory fees. Meanwhile, renewable energy sources continue to become more accessible and affordable.
The business sector is quickly getting on board. Forbes reports that at least one-fifth of the world's largest companies have committed to meeting net-zero targets in the pursuit of a low-carbon economy.
It's the right move. But it brings its own set of risks and complications.
Creating a Low Carbon Economy
Low Carbon Transition Plans
A low-carbon transition plan is really a document that pulls together all of the climate and carbon work that a company has done into one cohesive document that outlines the strategy as well as the baseline for achieving carbon targets. It's how that company is going to operate in the future, in a world in which we do have a low-carbon economy. It essentially pulls together both what's been done to date as well as what's the strategy moving forward on those topics. And it often includes things like targets, science-based targets, and certainly what the goals are, or the interim goals to reach this net-zero economy that we're shooting for in the next couple of decades.
Biofuels
With the onset of climate change and the urge to reduce greenhouse gas (GHG) emissions, the biofuel industry is growing more every year. Biofuels (also called alternative or renewable fuels) are fuels that are produced using biological feedstocks, which can be anything from corn to algae to organic waste. These organic feedstocks typically have some quantity of carbon (CO2) uptake during their growth cycle. Or, in the case of organic waste, they are processed into fuel instead of digesting in a landfill and off-gassing greenhouse gas emissions.
Common uses of biofuels include:
Vehicles: Biofuels' traditional application is in vehicles, such as ethanol blends with gasoline (E10, E15, E85). The Renewable Fuel Association has published data detailing today's corn ethanol reduces GHG by half when compared to traditional fuels.
Aviation: Biofuels would allow for aviation transportation to drastically reduce emissions. It will also allow aviation to potentially be carbon neutral depending on the type of biofuel, its feedstock, and the emissions associated with its production.
Long-Haul Trucking: Electrification of long-haul vehicles with batteries is currently not feasible due to the weight of the batteries required. Renewable fuels such as biodiesel and ethanol offer a lower carbon option for the trucking sector.  
Agriculture: Many of the vehicles and machinery in the agriculture industry aren't being electrified (e.g., diesel tractors). Renewable fuels (ethanol, biodiesel, renewable diesel) could be the solution for decarbonizing scope 1 emissions incurred by operating farm equipment.  
Biofuels are certainly one piece of the complex decarbonization puzzle, especially for aspects of transportation industries that are not addressed by electrification via battery technology. Remember, the decarbonization puzzle will be achieved by using multiple forms of energy including fossil fuels, renewable fuels, and electricity. When it comes to reducing emissions, every step counts.
Decarbonization Tactics
With the impact of new regulations and a more robust global push to achieve net zero emissions by 2050, there is no better time than now to begin thinking about your organization's low-carbon transition plan.
Many organizations falter in their pursuit of decarbonizing their business by not developing a coherent strategy of what decarbonization tactics to pursue, as well as when and how to pull the levers on these tactics.
Choosing decarbonization tactics that are practical and attainable for your organization's function and size is an important step, but it is also important to consider when and how to implement these tactics – or when not to.
Before you begin this process, learn more about six of the top decarbonization tactics:
Grid Greening
On-Site Solar
Heat Pumps
Fleet Management
Facility Optimization
Environmental Financial Instruments
Charlie Quann, Climate Change Advisory Lead at Antea Group USA, shares why this is an attainable first step to encourage organizational leadership to invest in a low-carbon future: "Leadership sometimes thinks of sustainability and decarbonization as a cost and only a cost."
A baseline greenhouse gas inventory builds context around where carbon – and the money – is being wasted. Charlie continues, "Helping to, at least at a high level, reframe that narrative to show that there are real tangible returns on investment, that this actually makes good business sense, that's really a starting point for this."
Science-Based Targets
Until now greenhouse gas targets have usually been short-term, low-ambition, or arbitrarily set, yielding important but only incremental improvements. Science-based targets aim to change that. A joint effort by the CDP, United Nations Global Compact, World Resource Institute, and the World Wildlife Fund, the Science Based Targets initiative exists to spur "corporate climate action by creating an expectation that companies will set targets consistent with the level of decarbonization required by science to limit global warming to less than 2°C compared to pre-industrial temperatures."
In order to achieve this goal, climate scientists have identified several science based processes for establishing your GHG emission reduction targets in line with climate science. These processes include the sectoral decarbonization approach, the 3% solution, the BT CSI Methodology for Climate Stabilization Intensity, the C-FACT methodology, and others. (For more information, see the Science Based Targets website.)
Going deeper, SBTi outlines four core reasons setting science-based targets are good for business:
Increases innovation: As SBTi puts it: "The transition to a low-carbon economy will catalyze the development of new technologies and operational practices. The companies that set ambitious targets now will lead innovation and transformation tomorrow."
Reduces regulatory uncertainty: The regulatory environment is in constant flux as governing bodies and organizations at multiple influence levels work to promote sustainable change. By taking action now, companies can stay ahead of the regulatory curve and even help shape future policies.
Strengthens stakeholder confidence and credibility: According to SBTi, 52% of executives say they've seen investor confidence boosted by science-based targets. Furthermore, with more than half of consumers worldwide believing that climate change negatively impacts their lives, taking the lead on climate change can bolster your reputation and authority among stakeholders.
Improves profitability and competitiveness: Rising prices of raw materials and resource scarcity is and will continue to have a major impact on a company's bottom line. But by setting ambitious targets now, companies can transform operations to run leaner and more efficiently, as well as ensure durability into the future.
As you go deeper into the climate science and seek to understand what your contribution could be, it is important to look beyond merely establishing a target. Whether enlisting environmental consulting support or not, working to understand the real business opportunities and effort required to achieve your targets is a critical exercise of scenario thinking and forecasting.
Getting Ready for a Net-Zero World
The world is progressing toward a net-zero future, and it is up to businesses to keep pace.
Across the globe governments and regulatory bodies have enacted laws and regulations to both curb emissions and expand alternative energy sources. These changes, while designed to move us toward a more positive future, may cause near-term complications for certain industries and corporations.
To mitigate the negative effects of energy transition and emission reduction, businesses must take strategic and proactive action. A report by McKinsey addressed this, stating,
"Many of these adjustments can be best supported through coordinated action involving governments, businesses, and enabling institutions, and by extending planning and investment horizons."
The good news is that investors are on board with investing in companies that prioritize addressing environmental concerns. Making the necessary changes in how your business operates to ensure you meet net-zero emission targets might seem like a monumental undertaking, but it really comes down to creating a process backed by science.
ESG & Materiality in the Energy Industry
A materiality assessment is understanding the relative importance of Environmental, Social, and Governance topics to our client's organization - so what is most important for them to focus on and what is most material to focus on.
In the video below, Danielle Pucherelli, PE, a Consultant at Antea Group, dives into materiality for energy companies and which E, S, and G topics are especially relevant.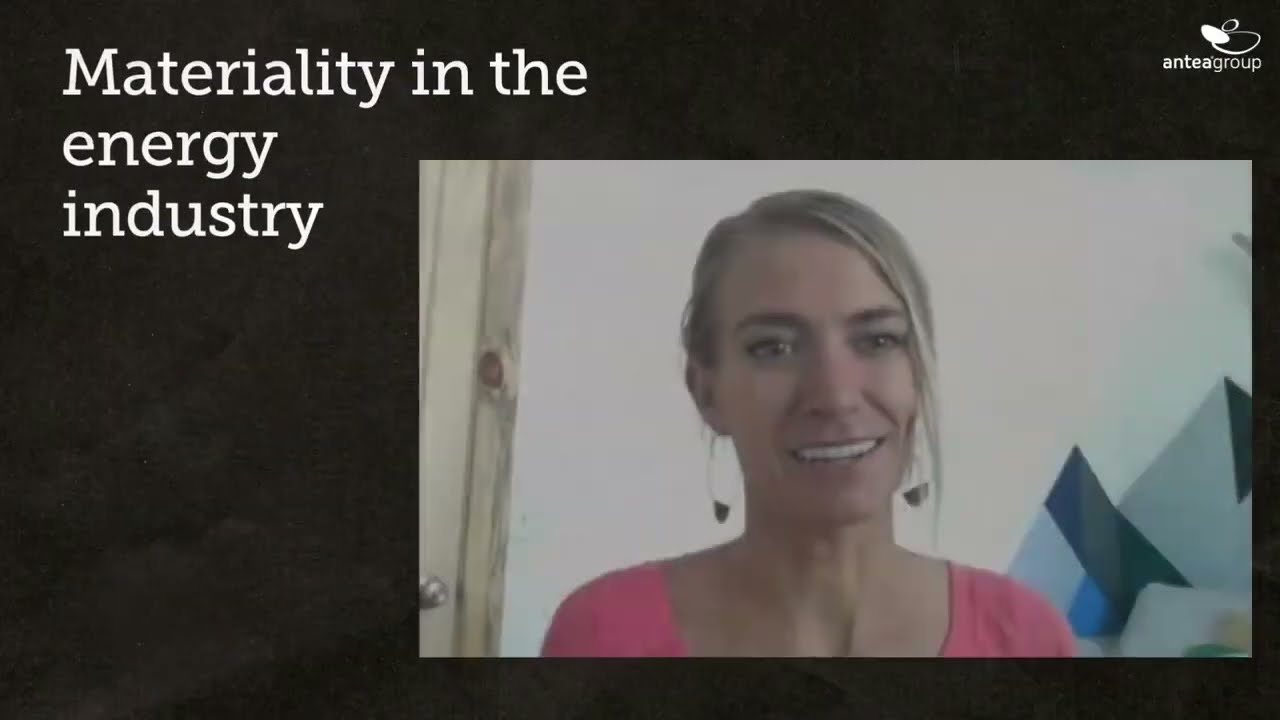 7 Basic Steps for Conducting a Successful Materiality Assessment
Materiality assessments are formal exercises aimed at engaging stakeholders to find out how important specific environmental, social and governance (ESG) issues are to them. The insights gained can then be used to guide strategy and communication, and help you tell a more meaningful sustainability story.
If you're considering conducting a materiality assessment, below we offer seven basic steps that should be a part of your initiative:
Identify Internal and External Stakeholders
Conduct Initial Stakeholder Outreach
Identify and Prioritize What You Want to Measure
Design Your Materiality Survey
Launch Your Survey and Start Collecting Insights
Analyze the Insights
Put Insights into Action
Learn More About the 7 Steps Here
Energy Transition Trends, News, and Resources
The energy sector experienced significant upheaval in 2022. The Russian invasion of Ukraine caused a surge in fossil fuel prices that subsequently escalated investments in renewables. At the same time, lingering supply chain issues and concerns about global inflation increased costs for new renewable energy projects.
While the momentum of energy transition slowed in 2022, experts at Deloitte observe that "drivers for renewable growth are some of the strongest the industry has seen, including competitive costs, supportive policies, and burgeoning demand."
After many years of rather steady (albeit remarkable) forward momentum for energy transition, the energy sector landscape has shifted dramatically. Check out the resources below to help stay on-top of all the latest news, insights, and events in energy transition.
Our Work in Energy Transition
Get in Touch
Still have questions or need support on your Energy Transition initiatives? Reach out to our experts today!
Contact us
Have any questions?
Contact us to discuss your environment, health, safety, and sustainability needs today.