On March 21, 2022, the U.S. Securities and Exchange Commission (SEC) released a comprehensive set of proposed rules mandating climate-related risk disclosures for public companies. The Proposed Rule requires a public company to make more robust disclosures in its periodic reports with the SEC regarding its exposure to climate-related risks and its impact on the environment, focusing primarily on emission of greenhouse gases. The Proposed Rule draws significantly from the guidance provided by the Task Force on Climate-Related Financial Disclosures (TCFD) and the Greenhouse Gas Protocol.
Timing
The proposed ruling was released on March 21 and is available for public comment for 60 days through the SEC website. The SEC currently anticipates finalizing the proposed rule in December 2022. If this timing is met, the earliest filers would be required to disclose climate-related information in 2024, covering their FY2023 activities.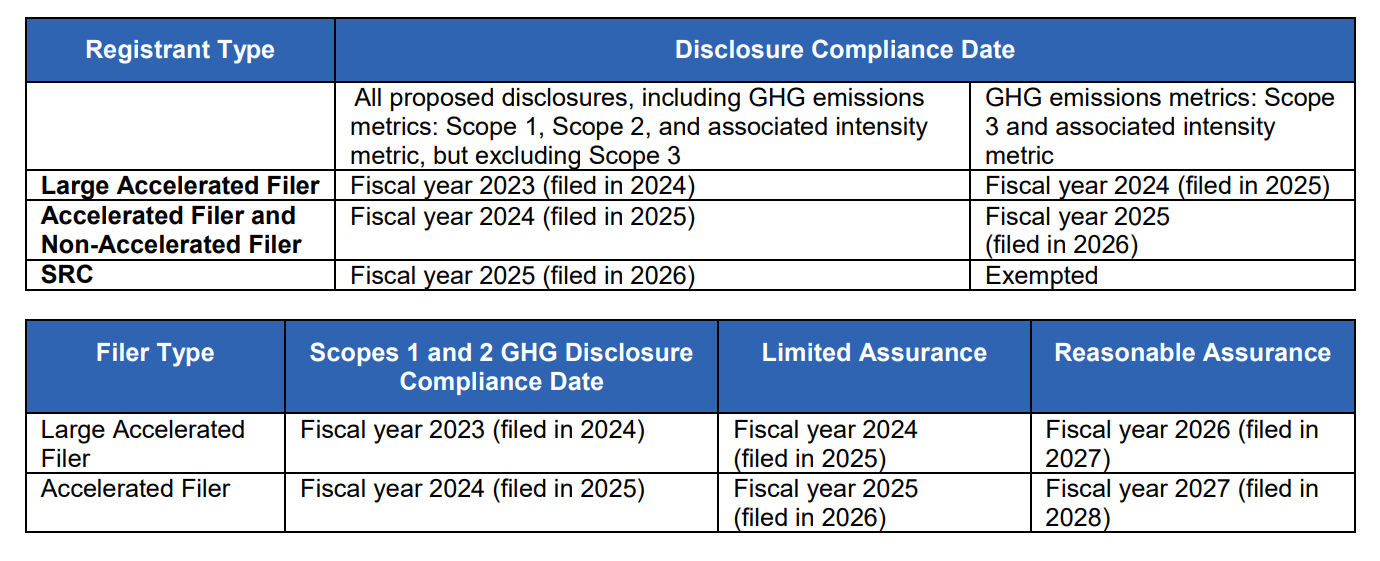 Source: SEC
It is important to understand that the proposed rule could change substantially before finalization. While we recommend that clients assess their potential gaps in existing disclosures versus the proposed rule, it may be premature to revise your 2022 or 2023 reporting strategy.
Disclosure Requirements
There is substantial alignment in the disclosures required and the Task Force on Climate-Related Financial Disclosures (TCFD) Framework. Anticipated disclosure elements include:
Oversight and governance of climate-related risks
Scope 1 and 2 Greenhouse Gas emissions (as absolute and intensity values)
Scope 3 Greenhouse Gas emissions (subject to several caveats, detailed below)
Physical and transition risks associated with climate change in the short, medium, and long term
Plans to mitigate climate-related risks (for example, low carbon transition plans and climate adaptation plans)
If relevant, details on completed climate scenario analysis, implemented internal carbon prices, and publicly stated climate-related targets and goals
Scope 3 Emissions
The proposed SEC rule will require the disclosure of scope 3 emissions one year after initial climate-related disclosure deadlines. Importantly, scope 3 emissions reporting will only be required for those scope 3 emissions sources that are deemed material to the business; or for scope 3 emissions covered under publicly disclosed emissions targets. The materiality threshold expresses "if there is a substantial likelihood that a reasonable investor would consider them important when making an investment or voting decision." The proposed rule asks registrants to additionally assess materiality based on whether scope 3 emissions make up a significant portion of their GHG inventory. A scope 3 screening can help companies make this assessment.
Smaller Reporting Companies (SRC) are exempt from reporting scope 3 emissions at this time. An SRC is defined by the SEC as a company with:
Less than $250MM in public float; or
Less than $100MM in annual revenues and public float of less than $700MM
Further, all scope 3 emissions reporting will be covered by safe harbor provisions and not subject to limited or reasonable assurance.
How Does This Affect My Company's Reporting and Disclosure Strategy?
Given the phased nature of the proposed rule implementation, we do not recommend substantially adjusting your reporting and disclosure strategy for 2022 or 2023. However, we do recommend performing a limited gap assessment against the new proposed reporting requirements to determine whether you may need to complete analytical tasks such as a climate risk screening and/or a greenhouse gas emissions inventory before any new reporting requirements phase in.
We can help you better understand this proposed rule and the implications to your corporate reporting and disclosure strategy.
Have any questions?
Contact us to discuss your environment, health, safety, and sustainability needs today.