With the sharp focus on the impact climate change has on the water cycle and how this translates to water-related business risks, it is very clear that the collective "we" are not doing enough to address our global water crisis. The time to take meaningful and deliberate action is now – but what does that look like? In a webinar hosted by Antea Group USA, global water leaders from the Alliance for Water Stewardship (AWS), as well as water sustainability experts from Antea Group, discuss the AWS Standard in detail and how it can lead to improved water resiliency.
This panel discussion was led by Julie Mouton, Water Stewardship Lead with Antea Group USA and credentialed AWS Specialist. The panelists included Scott McCready, Chief Strategy Officer with Alliance for Water Stewardship, Nadia Jebbour, Water Sustainability Lead with Antea Group – France and Janaína Silva, Water Sustainability Lead with Antea Group – Brazil.
You can watch the full webinar including the Q&A session on-demand below.
About Alliance for Water Stewardship and the AWS Standard
Alliance for Water Stewardship is a global membership collaboration comprising businesses, NGOs, and the public sector. Members contribute to the sustainability of local water-resources through their adoption and promotion of a universal framework for the sustainable use of water – the International Water Stewardship Standard, or AWS Standard – that drives, recognizes and rewards good water stewardship performance.
The AWS Standard provides an accessible "how to" framework of actions required on your own site and goes beyond your "four walls" to work with others in the catchment to address shared water risks and challenges.
Water is something that everyone needs but nobody owns. Water stewardship is making sure everyone using the water catchment is taking care of the resource and has access to what they need. The AWS Standard was set up to verify organizations' actions against their words, giving assurance to stakeholders that the claims they are making are credible.
The AWS Standard Framework is built around five steps:
Gather and Understand
Commit and Plan
Implement
Evaluate
Communicate and Disclose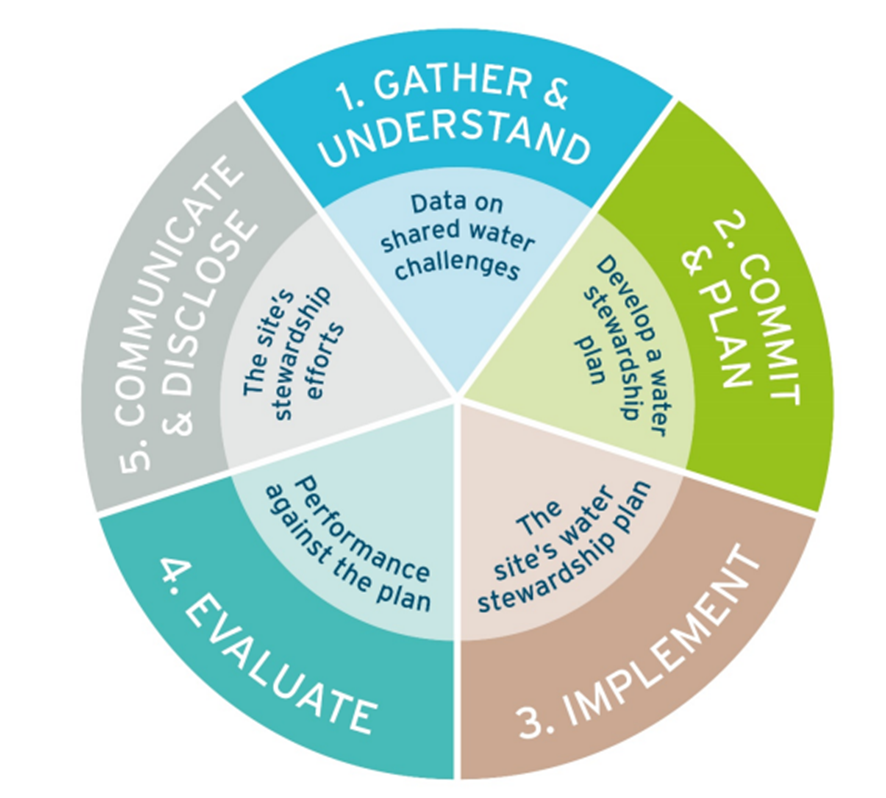 Source: The AWS Standard 2.0
Why Pursue AWS Implementation and Certification?
A single site's actions alone will not make an impact on our water resources. To achieve sustainable, successful results we must come together and take collective action. Implementing the AWS Standard can help us to do that.
"Companies often understand the importance of water stewardship but don't always know how to get started," said Silva. "AWS Standards provide a guide and a path to water sustainability."
When implemented successfully, the Standard can bring the following benefits to the business and the community:
Good water governance

Sustainable water balance

Good water quality status

Important water related areas

Safe water sanitation and hygiene for all
While water stewardship is a big topic, we hope this overview of the AWS Standard can help give you a starting point and inspire you to further your understanding of the importance of acting on water stewardship.
The Five Steps of the AWS Standard Explained
Step 1: Gather and Understand
The first step of the Standard is a very data heavy step aimed at getting to the roots of shared water challenges within the catchment and how this can translate to risks and opportunities for a site or facility. "Appropriately defining the catchment in step one is crucial," shared Jebbour. "This definition will define what stakeholders to involve and guide future action in the Standard."
Once the catchment is defined, the work begins to understand how a facility impacts and depends on the water within the catchment. Gathering and organizing the appropriate data and interpreting what that data means to the site is crucial, as the data gathered in step one will inform all the steps that follow. As noted by Silva, utilizing tools such as spreadsheets to organize data at this step is helpful and adds transparency to the process.
Step 2: Commit and Plan
Once you understand what challenges you face and can define your water risks and opportunities, it's time to secure leadership buy-in for your plan. Getting strong buy-in will ensure the appropriate time, money, and human capital are being devoted to the water stewardship journey. As Jebbour points out, stakeholder engagement plans should be set on a case-by-case basis. Each catchment is different, and relationships and perceptions can differ as well.
In this step, you should clearly show leadership importance of investing in water stewardship and emphasize the return investments that your plan will bring. Work in line with their motivations to show them the importance of making small changes in relation to the big picture.
Step 3: Implement
When you reach the stage of implementing the plan you've created remember, the Standard helps you do two things:
Get your own house in order: through the previous steps, you have learned more about your own water impacts by your facility. It's your responsibility to take ownership and make improvements on your water practices.

Build relationships to take collective action: as mentioned before, achieving real change requires you to work together "outside of your fence line" with the other stakeholders involved in your shared water catchment.
Implementing your plan not only involves your individual facility but requires engaging with the appropriate external resources as well.
Below are a few best practices that have helped companies find success in implanting their plans.
Commitment

: Getting staff the time and resources they need to effectively implement and manage a water stewardship plan.

Integration

: By building water stewardship into existing internal processes, it becomes easier for staff to get involved and makes water stewardship part of daily tasks.

Seek Help

: Often, one staff member can't do everything required by the Standard. Being willing to seek help will ease stress and help the implementation go more smoothly.
Step 4: Evaluate
As with implementing any change in operations, you must track success and progress against the initial plan. This includes assessing contributions and benefits at the site, evaluating how risk exposure has changed, understanding the cost benefits of progress, obtaining feedback from stakeholders, etc.
Jebbour shares some of the positive outcomes of implementing the Standard that can be evaluated. "Water stewardship strategies help increase water security for community and the site. They help ensure reliable water supply for everyone and relieve pressure on water source and supply at the catchment level which will directly impact the site."
Step 5: Communicate and Disclose
Finally, you should communicate and disclose your water stewardship efforts with both internal and external stakeholders. With growing demand for public disclosures, transparency around your efforts is important. Jebbour reminds us that your communication strategy should be closely linked to your stakeholder strategy as this will impact your relationship. While many companies include their AWS implementation stories in their sustainability reports, others choose to share using methods like social media or opening up their site to visitors.
AWS is part of an ecosystem of water stewardship organizations. All of these organizations "speak the same language" and complement each other, making disclosure simple.
What's Next?
Water stewardship is a journey. Your organization should continue to grow and improve on your water stewardship efforts and continue to implement new best practices. The global water crisis is a major issue that will take an "all-hands-on-deck" approach to solve. Using the AWS Standard and other publicly available tools can help your organization be part of the solution.
For more on the Alliance for Water Stewardship and help to get your own plan started, contact our Water Stewardship team today or reach out to our Water Stewardship Service lead, Julie Mouton.
Water Stewardship