The group of chemical compounds known as PFAS (per- and polyfluoroalkyl substances) has been around since the 1940s, used in both consumer and industrial materials such as non-stick cooking surfaces, waterproof fabrics, and fire extinguishing foams. PFAS are sometimes called "forever chemicals" due to their potential to persist in nature for thousands of years.

While products enhanced by these chemicals have been common in households for multiple generations, the term PFAS first came into the mainstream public consciousness in 2016 with the publication of the Environmental Protection Agency's drinking water advisory.
Since then, communities and governments have been taking legal and legislative action to mitigate risks posed by PFAS contamination.
For companies anywhere in the supply chain of PFAS chemicals and products witnessing the rise of these laws and lawsuits, the question is no longer, "When should we act?" but a much more urgent, "What should we do?"
We'll guide you through what's to come, how you can proactively prepare, and what tools are available to help you with this process.
Two Big Concerns: Lawsuits and Legislation
On the legal front, community members, municipal utilities, and state Attorneys General have filed and won nearly 2 billion dollars in negligence and personal injury claims against PFAS manufacturers. Those lawsuits are now being filed against companies that use PFAS in the production of their goods.
Last year over 100 new regulations were enacted at all levels of government aimed at ensuring the safe production, use, and disposal of PFAS materials. That number is predicted to double in 2022.
This is a concern for organizations that wish to avoid costly payouts on top of PFAS clean-up costs and has risen to top-of-mind status in the realm of mergers and acquisitions.
Massive Reporting Requirement Coming
In October of 2021, the EPA released the PFAS Strategic Roadmap outlining their plans for the identification, regulation, and mitigation of PFAS chemicals and contamination. This plan was released just ahead of the passage of the Infrastructure Investment and Jobs Act, which secured funds for the remediation of PFAS in drinking water.
To pursue these remediation efforts effectively, the EPA needs to know the full scope of PFAS chemicals manufactured in and imported to the United States.

To this end, they have proposed a rule that would require a one-time lookback report from all manufacturers and importers of PFAS that detailed use, exposure, and volume data going back to 2011. Stakeholders will have one year from the date of the passage of this rule to complete their reporting.
Be Proactive, Not Reactive, in Addressing PFAS Risk
With this flood of regulations passing in state after state, the window of time to "wait and see" has closed. Still, many organizations are faced with the desire to take action but no clear guidelines for what that action should look like.
The good news is Antea Group has already been guiding companies through this process for more than a decade, and we have the tools and knowledge to help your organization.
Is your industry at risk? That answer isn't always clear
First, it is important to understand where your organization's PFAS use falls within the spectrum of chemicals impacted by new regulations and reporting requirements.
The EPA runs a program called Toxic Release Inventory (TRI) to track certain toxic chemicals that pose a risk to humans and the environment. TRI lists industries considered higher-risk for toxic chemical contamination and maintains a searchable database of chemicals it considers toxic, including some PFAS chemicals.
"There are certain industries that have a higher risk for discharging PFAS," says Antea Group Consultant Caron Koll, pointing out that while the TRI list of industries is a start, there are unsuspecting industries that could also be at risk for PFAS liabilities that are not on the limited TRI list. "You wouldn't suspect that carwashes carried a risk, but unfortunately they may use certain waxes or soaps that often contain PFAS."
And when it comes to PFAS chemicals, Caron reminds us, "Not all PFAS are necessarily bad." With around 4,700 kinds of PFAS in use worldwide, the task of determining risk can feel overwhelming. Some are more bioavailable than others.
Our risk screening tool offers clarity
To meet the urgent demand for a clear and accurate risk assessment, Antea Group released a PFAS Screening Tool in mid-2021. This desktop tool enables companies from any industry to enter known metrics to determine risk levels and associated costs. An easy-to-understand dashboard makes this tool useful for stakeholders across the organization.
The first step in this process is compiling a database of site information, SDS data, and product use. Once your organization has completed this step, it takes roughly two weeks for our tool to complete the assessment and develop a dashboard like the example below.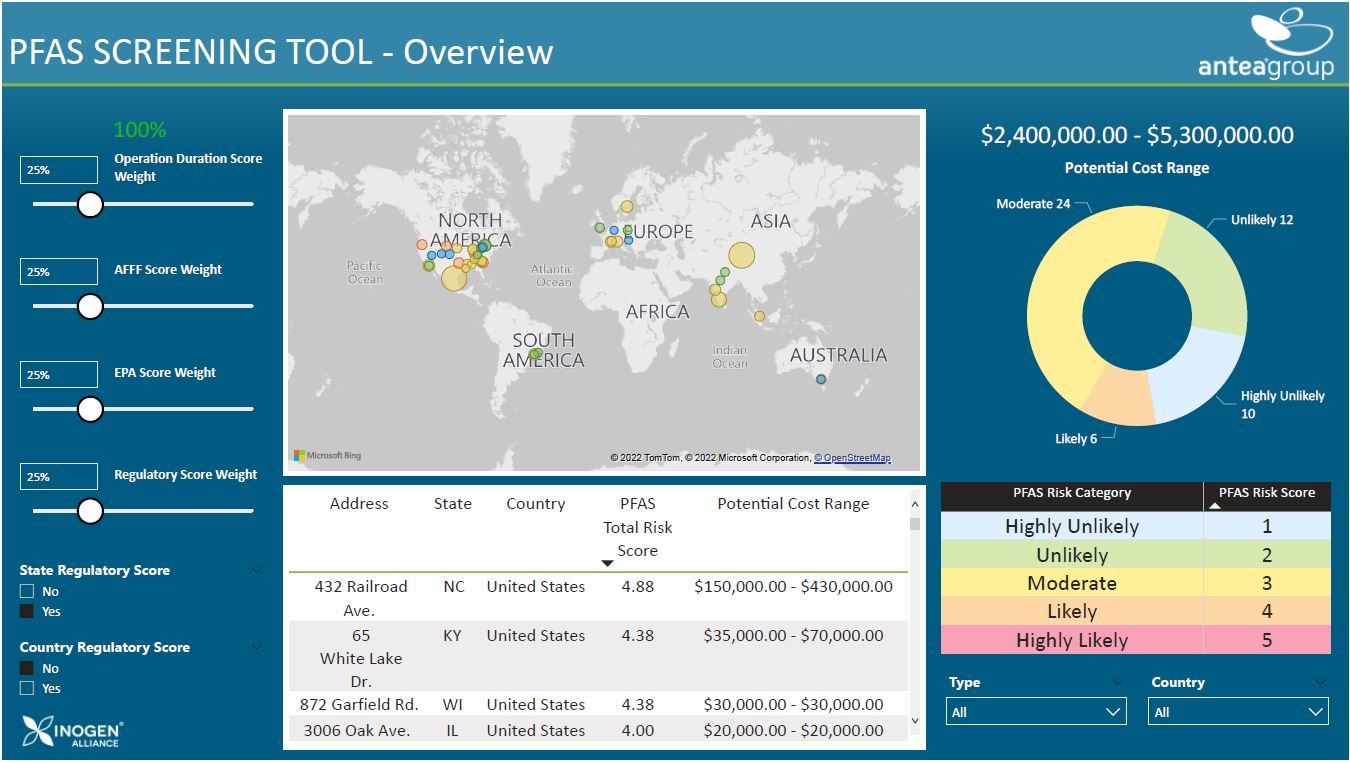 Quickly translate data into action
"In terms of translating that risk screen into actionable steps to reduce your risk," offers Environmental Remediation Practice Leader Scott Recker, "the timeline is anywhere from a week to a month," Scott notes that steps such as removing PFAS chemicals from your supply chain and cleaning manufacturing surfaces that had been exposed to PFAS in the past are two of the quickest steps that can be taken to mitigate risk.

The risk assessment tool may also bring to light new regulations you weren't previously aware of, allowing you the opportunity to ensure you are in compliance before being subject to fines.
Contamination from Forever Chemicals Is a Now Problem
Contamination from PFAS chemicals is an enduring problem that we can mitigate with action right now. The financial risk of lawsuits, fines, and clean-up costs has raised the profile of PFAS in corporate mergers and acquisitions.
The global shift to environmental awareness has led to strong public opinion about organizations that don't take steps to manage toxic chemicals.
Now is the time to start your PFAS risk assessment. Explore our Desktop PFAS Screening Tool and reach out to Caron if you're ready to take the next step.
Contact Us Today
Want more news and insights like this?
Sign up for our monthly e-newsletter, The New Leaf. Our goal is to keep you updated, educated, and even a bit entertained as it relates to all things EHS and sustainability.
Get e-Newsletter
Have any questions?
Contact us to discuss your environment, health, safety, and sustainability needs today.