The environmental health and safety (EHS) field is growing leaps and bounds. But so is technology and the innovations that come with it. EHS and tech have something in common: both of them are global change-makers. At Antea Group, we have always been passionate about EHS innovations—from harnessing virtual reality to train safety personnel to analyzing big data to drive sustainability initiatives, we've seen firsthand that EHS and technology are taking the world by storm and creating new opportunities and efficiencies.
Now it's time to see how we are changing the way leak detection and repair has been done by utilizing the power of mobile technology.
Tech Changes the Game
Think about how often you have used your phone today. You might have checked emails, watched the news, or shared a photo with friends, all while going about your usual day-to-day life. Mobile technology bridges gaps between the virtual and real world, making many tasks flow together.
Using the internet and other connective technologies has changed the way we live, work, and communicate. According to the Pew Research Center, nine in ten of all Americans are online, and internet use is growing quickly around the world. This means that almost all of us are living in the interconnected world. We are coming to expect that our tech connects us to each other, our work, and other people – there is a growing movement among EHS professionals that view using technology for work as a "must have," according to a recent Verdantix global survey. This trend is growing because professionals of all varieties see the power in using tech to enable better business decisions.
Combining EHS and technology can bridge the gaps that stop companies from staying in compliance and collecting useful data. We're utilizing technology to speed up work and create efficiencies with an innovative approach to leak detection and repair (LDAR) program monitoring.
If you have managed a pen-and-paper LDAR program, you might have noticed that it isn't very smooth translating handwritten notes into a digital system. With observations going missing, a lack of organization, or no bird's eye view of your facility data, LDAR can be frustrating and time-consuming. No matter what your troubles are, we have a way to ditch the clunky way of doing leak detection and repair monitoring.
Through client observations and decades of experience with leak detection and repair, Antea Group has created the LDAR Dashboard, a simple mobile and tablet software program.
Out with the Old, In with the New
LDAR Dashboard is a customizable app for mobile technology like phones and tablets. This means no new equipment for you – it runs on the devices your field personnel already have. It enables them to input their observations straight into the backend of our powerful EHS data management tool. No more copying physical notes into a digital database.
LDAR Dashboard allows you to monitor repairs, receive email updates, and trend data points across your facilities. Learn more about the details about the Dashboard on our service page.
This new way of doing leak detection and repair shows you the big picture so you can save on staffing costs, enhance the process of leak repairs, and stay completely in compliance.
There are a few other pros to this new app-based tech: it minimizes typing errors, eliminates the need for repetitive tasks, and shows real-time updated tracking tables that can be accessed by anyone on your team. Being in a connected network makes life easier for everyone along the LDAR chain, from those who collect the data that no longer have to worry about taking unwieldy field notes, to EHS and facility managers who no longer have to spend days synthesizing and analyzing data, hoping it all adds up to compliance.
Now that you know how LDAR Dashboard works, check out the clean and simple app design for yourself: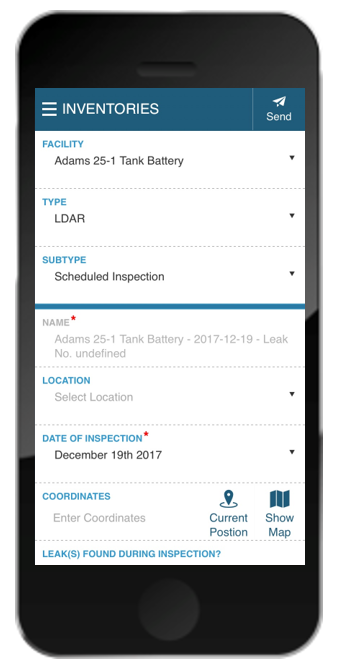 The LDAR Dashboard software includes many of the new functions we have come to appreciate in mobile apps: auto-populating time, date, and location information, photo uploading capabilities, simple entry forms, and the ability to enter data when offline and have it upload to the cloud later.
Making LDAR Easier
Whether you are still working from handwritten notes or have existing databases you need to bring together, we stay with you every step of the way to ensure your efficient new system works with your facility and tracking needs.
Just take a look at one of our clients that use LDAR Dashboard: they gained value immediately after implementation. Their inspection times were reduced and no leaks have been overlooked in the field, minimizing their overall program cost. And the best part? They have been 100% compliant ever since.
LDAR Dashboard is our solution to the gap between paper, database, and the EHS or facility manager. With tech that grows as you do, LDAR Dashboard is the solution for those looking to stay in compliance while creating efficiencies for your business.
Interested in using LDAR Dashboard at your facilities? Contact us today to get started.
Want more news and insights like this?
Sign up for our monthly e-newsletter, The New Leaf. Our goal is to keep you updated, educated and even a bit entertained as it relates to all things EHS and sustainability.
Get e-Newsletter
Have any questions?
Contact us to discuss your environment, health, safety and sustainability needs today.