While it's clear that COVID-19 isn't going away anytime soon, environmental, health, and safety (EHS) challenges are shifting slightly and will continue to evolve as we head into 2022. With the potential of the presidential vaccine mandate being developed by OSHA, continued high turnover with the "great resignation," and top compliance trends, EHS professionals had plenty to discuss in the most recent EHSxRetail virtual retail industry collaboration event hosted by Antea Group USA.
Vaccine Mandates & Office Compliance
There is no surprise that vaccines continue to be a hot topic for discussion among EHS leaders in the retail industry. Now that vaccines have been widely available for some time, companies are facing the difficult decision of whether it is appropriate or necessary to mandate vaccines for employees. Some have shared that they are looking forward to President Biden's vaccine mandate as it will take some of the pressure off their shoulders. However, even with the presidential mandate, there are still tough decisions EHS leaders must face. For example, who will cover the cost of the testing should employees choose not to get the vaccine? Some retailers fear that this mandate will lead to more employees resigning, leaving the retail industry struggling to fill open roles.
Additionally, companies are facing a range of backlash with return-to-work decisions. While some employees were eager to get back to working in an office space, others are fighting to keep the flexibility of working from home. For many, working from home offers benefits, is a lifestyle choice they wish to keep, or still feels like the safest option. EHS leaders shared their struggles with enforcing compliance in offices. Even with clearly outlined COVID policies and safety measures in place, some employees are still refusing to follow and accept these rules. When you don't have buy-in from leadership, it can be virtually impossible to enforce implemented COVID policies.
The struggle remains ongoing as EHS leaders try to find the balance between inclusivity and safety for all employees as they choose to be vaccinated or not.
Warehouse, Fulfillment, and Distribution Challenges
Warehouse, fulfillment, and distribution centers in the retail industry are facing challenges of their own, many relating to high employee turnover. We are going through what has been called "the great resignation" with millions leaving their jobs. This is leading to the challenge of hiring, training, retaining, and developing relationships with employees. EHS leaders at the event discussed that it may be time to reevaluate the training process in their warehouses and distribution centers. With so many new employees, more frequent touch points will be required since they won't have the guidance of more senior coworkers who are choosing to continue working from home.
Some areas of training might be seeing a more drastic change. For example, CPR and first aid training needs to be reevaluated. If offices are empty and the usual safety liaisons are not present, who should take on that responsibility? Some are choosing to shift these roles onto different stakeholders like building managers.
Noncompliance Trends to Keep in Mind
COVID related EHS topics still remain top-of-mind, however, there are several noncompliance trends discussed at the event that EHS professionals should focus on heading into 2022. We have outlined some of the most common noncompliance topics in warehouse, fulfillment, and distribution centers to help you get prepared: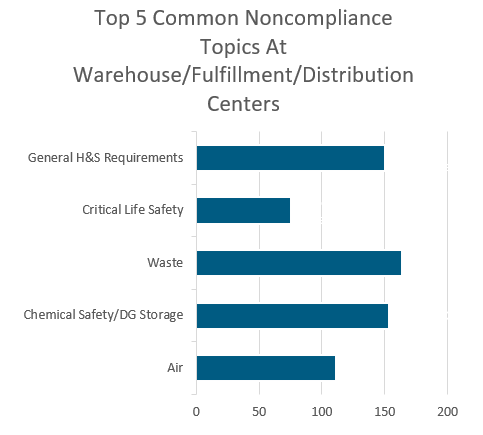 General Health & Safety (H&S): Ergonomics, fire prevention, housekeeping
Critical Life Safety: Electrical safety, fall protection, machine guarding, personal protective equipment
Waste: E-waste, hazardous Waste, permits/authorization, and reporting waste generation
Chemical Safety/DG: Spill response planning, permit/approvals for storage, improper storage, transportation
Air: Permits for generators and reporting/recordkeeping on refrigerants
Although the EHS leaders who participated in this EHSxRetail event are certainly busy, we are happy to report that the overall outlook is positive! After many months of uncertainty and constant attention to COVID-19, the attendees discussed how they are excited to bring their focus back to other EHS topics. And as one EHS leader reminded us, "Nobody from a health and safety position has got this down pat, we're all struggling a little."
Everyone is learning on the go, so do not be afraid to reach out for support where and when you need it! Visit our Retail industry page for tailored services that can meet your EHS support needs.
Learn More About EHSxRetail
The EHSxRetail consortium supports retail industry EHS&S professionals with unique opportunities to identify and share industry best practices, network with peers in an open atmosphere, and work to raise the profile of EHS in retail settings.
EHSxRetail
Want more news and insights like this?
Sign up for our monthly e-newsletter, The New Leaf. Our goal is to keep you updated, educated, and even a bit entertained as it relates to all things EHS and sustainability.
Get e-Newsletter
Have any questions?
Contact us to discuss your environment, health, safety, and sustainability needs today.