When you became the new plant safety manager, you set a personal goal to walk the plant production floor on a regular basis. Your goal was to get to know associates and supervisors, observe employees at work in order to understand the production process, and look for unsafe acts and conditions--it seemed as if you discovered something new each time you walked the production floor.
On your walk you noticed several associates performing a trimming operation without eye protection.You brought this to the attention of the department supervisor and asked why associates were being allowed to do this job without eye protection, when it was obvious that particles generated while performing the task could cause an injury. The supervisor replied, "This is the way we've always done it--eye protection has never been required."
As you returned to your office, the supervisor's words that eye protection had never been required echoed through your mind. You decided today was the day to review the OSHA standards on Personal Protective Equipment (PPE), understand the requirements, and determine whether your plant measures up.
PPE is Not the Best Way to Control Hazards
Perhaps the most important thing to keep in mind is that PPE devices on their own should not be relied on to provide protection against hazards. Equipment design, manufacturing work practices, and engineering controls should be used to eliminate employee exposure or potential exposure prior to considering PPE. When evaluating the hazards, it can be helpful to consider the NIOSH (The National Institute for Occupational Safety and Health) Hierarchy of Controls shown below. Note that PPE is considered the last line of defense.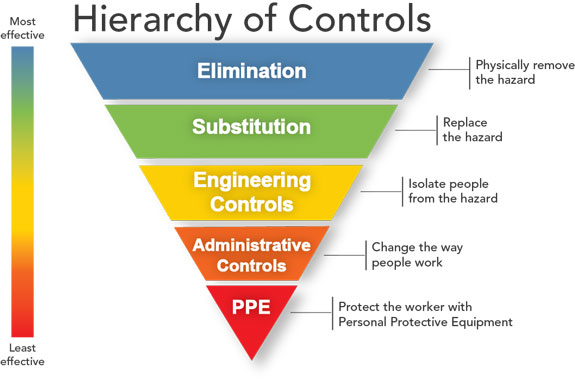 So What Does Compliance with the Standards Look Like?
The OSHA PPE standards have some very specific requirements, several of which are often overlooked or misunderstood by EHS managers. Let's take a closer look at four significant requirements, including what the standards actually require and what you as the new plant safety manager need to know to be compliant.
Hazard Assessment- 29 CFR 1910.132(d)(1) A hazard assessment is not simply a walkthrough of the work area to point out to the supervisor what you believe is the proper type of protective equipment. Rather, OSHA requires that the employer assess the workplace to determine if hazards are present, or are likely to be present, which necessitate the use of PPE. After the hazard assessment, the employer must select the types of PPE that will protect the employee from the hazards identified in the assessment.
OSHA also requires the employer to provide PPE that properly fits each affected employee. You must ensure you have multiple sizes of gloves, safety glasses, etc., that securely fit everyone. Once the assessment is completed and the equipment is identified, it is the employer's obligation to communicate to the employee the type of equipment selected. Most importantly, the employer must require the employee to use the equipment and the employee must cooperate by wearing the PPE.
Click here for more guidance for implementing requirements for a hazard assessment and the selection of PPE.
Certification of Hazard Assessment- 29 CFR 1910.132(d) It is not enough to perform the Hazard Assessment and consider the job complete! OSHA requires that you have on file a written certification that a hazard assessment has been conducted. There are four specific items that this documentation must include: the workplace evaluated, the person certifying that the evaluation has been performed, the date(s) of the hazard assessment, and a statement that identified the document as a certification of hazard assessment.
Many safety people are not aware that OSHA allows employers to rely on previously conducted, appropriate hazard assessments even if performed by a previous employer for that facility, provided that the job conditions and hazards have not substantially changed. Keep in mind, if an employer relies upon a hazard assessment that another employer conducted, the certification must contain the date the current employer determined that the prior hazard assessment was adequate rather than the date of the former employer's assessment.
Written Certification for Training-29 CFR 1910.132(f)(4) Oftentimes safety training required by OSHA standards is grouped together with other OSHA training. (For instance, hazard communication training may be grouped with PPE and control of hazardous energy.) However, if PPE training is grouped with other training, each employee must be trained to know at least:
when PPE is necessary;
what PPE is necessary;
how to properly don, doff, adjust, and wear PPE;
the limitations of the PPE;
and the proper care, maintenance, useful life and disposal of the PPE.
Once training is completed, the employer must have on file a written certification that each affected employee has received and understands the required PPE training. The PPE certification required by OSHA must contain the name of each employee trained, the dates of training, and the subject of the certification. (OSHA does not specify a certain format for the certification document.) It may be a single certification for all of its employees, for a group of employees (based on a common task, type of exposure, or other appropriate characteristic), or for one or more named employees. The document need only indicate that it is a certification of training for PPE.
Keep in mind that OSHA requires all affected employees to demonstrate an understanding of their training and the ability to properly use PPE before being allowed to perform work requiring the use of PPE.
Who Pays for PPE?
The question of who pays for PPE quite frequently arises and can often be confusing. With few exceptions, OSHA requires employers to pay for PPE used to comply with OSHA standards. (Click here for examples of PPE that employers must pay for as well as a list of exceptions.) The standards makes clear that employers cannot require workers to provide their own PPE. When a worker chooses to provide his or her own PPE because of style preferences, as with safety glasses or safety shoes, the employer must still ensure the equipment is adequate to protect the worker from hazards in the workplace.
At times, employees may request PPE that exceeds the PPE requirements. An employer does not have an obligation to pay for PPE requested by an employee that exceeds the PPE requirements (more stylish safety glasses or different styles of safety shoes), provided that the employer provides PPE that meets the standards at no cost to the employee. The OSHA standards specifically state an employer may require PPE that is provided at no cost to the employee to remain at the worksite in lockers or other storage areas. Employers must provide replacement PPE at no cost to the employee except in cases where the employee has lost or intentionally damaged the PPE.
Do You Have Work to Do?
Can you answer "Yes" to all of the following? If not, then you have work to do to ensure compliance with OSHA's PPE standards.
Have you performed an assessment of the workplace to determine if hazards are present, or are likely to be present, to necessitate the use of PPE?
Do you have a written certification that a hazard assessment has been conducted and is it on file? Does the written certification contain the required information discussed above?
Do you have a written certification that each affected employee has received and understands the required training and is it on file?
Do you provide PPE for your employees as stated here?
If not, it's time to begin the task of working towards compliance by understanding the requirements listed above. Compliance with PPE standards can be a big task--remember you don't have to go it alone. Bring together the department supervisors and others that you have become acquainted with during your plant walkthrough and have them assist in performing the Hazard Assessment. If you still need help, don't be afraid to engage an outside consultant with more expertise and an outside perspective.
Download our complete guide for new plant safety managers here.
Want more news and insights like this?
Sign up for our monthly e-newsletter, The New Leaf. Our goal is to keep you updated, educated and even a bit entertained as it relates to all things EHS and sustainability.
Get e-Newsletter
About the Author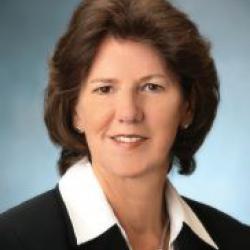 Dr. Barbara Boroughf, PhD
Vice President, Comtel Corporation
Barbara Boroughf, PHD, has more than 38 years of experience in environmental health and safety in the manufacturing segment. She is the former Global Vice President of Health, Safety and Environmental Management for Lear Corporation, a Global Tier 1 automotive manufacturer, headquartered in Southfield, MI.
She retired from Lear July 1, 2015. Prior to coming to Lear in 1997, Barbara held various positions within Rockwell International starting with Rockwell in 1978 at their North American Space Operations in Golden Colorado as Safety Manager. She was promoted to Rockwell's Corporate Director of Health, Safety and Workers' Compensation, Seal Beach, CA. Currently she is Vice President EH&S Program Development for Comtel Corporation, a sales, engineering and service company and provides written content exclusively for Antea Group.