In the past, we shared a video breaking down materiality assessments and why they are a crucial step in your ESG strategy. To give you a quick recap, a materiality assessment is understanding the relative importance of Environmental, Social, and Governance topics to our client's organization - so what is most important for them to focus on and what is most material to focus on.
In our latest video, Danielle Pucherelli, a Consultant at Antea Group, dives into materiality for energy companies and which E,S, and G topics are especially relevant.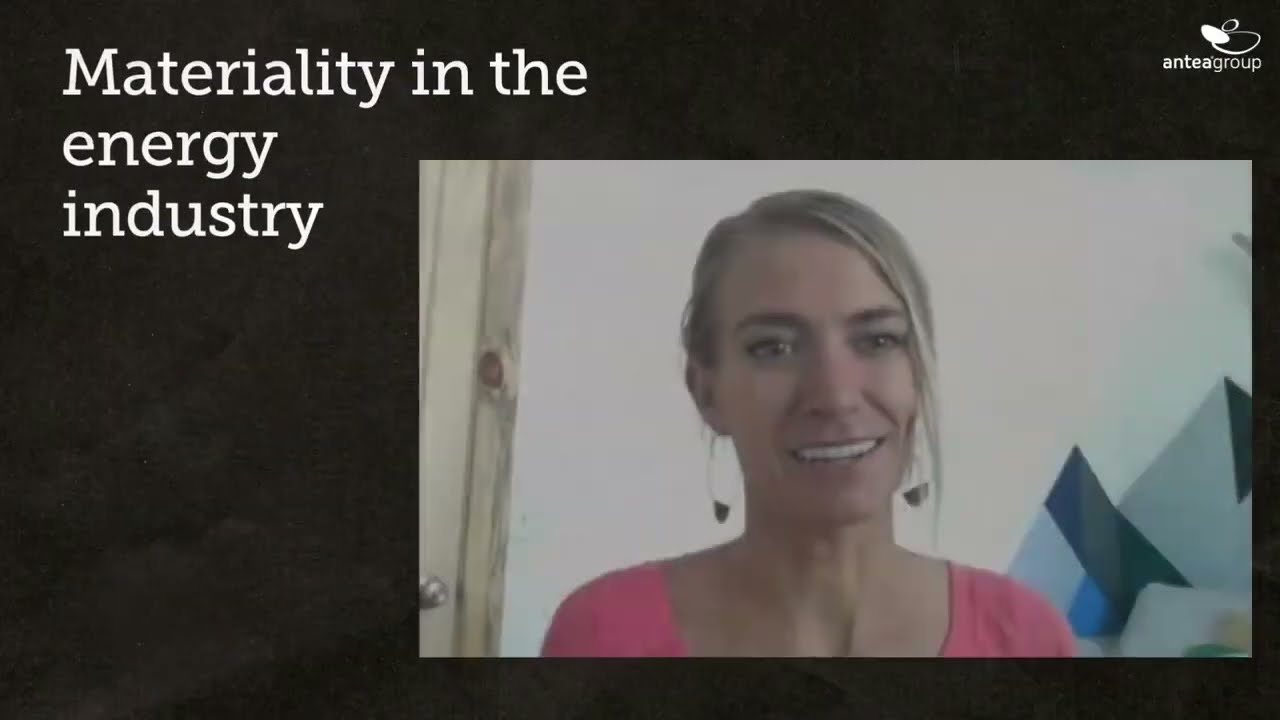 If you prefer to read, here's the full transcript!
Hi everyone. My name is Danielle Pucherelli. I'm a consultant here at Antea Group, and I wanted to speak a little bit about materiality in the energy industry today. Materiality is the principle that determines which relevant topics are important to a business. Not all material topics are of equal importance and an ESG program is expected to reflect their relative priorities and explain how progress will be made in each of those individual topic areas. So, a materiality assessment is an exercise in stakeholder engagement, it's designed to gather insight on the relative importance of specific environmental, social, and governance issues. Conducting a solid materiality assessment should provide an understanding of the relative significance of each of those topics to your stakeholders.

So overall, it's a methodical way to define your priorities for action. For energy companies, it is typical for there to be a lot of emphasis on the E piece of ESG. The environmental topics have been top of mind with this industry in the past and will continue to be a guiding principle for energy creation in the future. Greenhouse gas emissions, air quality metrics, water stewardship, and waste have all been regulated and calculated in the past, and that is not going away.

So it's really important to narrow down which of those areas are most important for your business and are areas that you can improve upon and demonstrate progress. You don't have to be the best in all of those areas, but it's more and more important to show that you're forward-thinking in how to minimize your impacts to the environment.
For the S piece of ESG, the social topics, it's really important for energy companies to be mindful of their internal stakeholders and their external stakeholders. For example, there has historically been quite an age gap in the oil and gas industry. So, those companies may perceive employee retention as a top material topic. Some other important social topics that we've seen an emphasis on is employee health and safety, which is inherently important to running any successful energy business. Diversity and inclusion is also a really important topic in the energy industry, as well as community engagement, as there's more and more scrutiny about the effects of the industry on our everyday communities.

As for governance topics, energy companies are under a microscope for how they're fitting into the energy transition. More and more stakeholders want to fully understand the business ethics and management and board oversight of the company. People want to know what is driving these business decisions to create energy for the future and how it will be sustainable. So overall, it's really important to consider the landscape of the energy transition when defining your material topics for your ESG strategy and to continue to keep a pulse on the local community where you operate and be in tune with those stakeholders.
Learn more about materiality assessments as well as other corporate sustainability reporting and disclosure services that Antea Group can provide or connect with our energy transition experts.
Want more news and insights like this?
Sign up for our monthly e-newsletter, The New Leaf. Our goal is to keep you updated, educated, and even a bit entertained as it relates to all things EHS and sustainability.
Have any questions?
Contact us to discuss your environment, health, safety, and sustainability needs today.