Insights from Symantec's Kathryn Nobrega to inspire personal growth and EHS leadership.
Kathryn Nobrega, CIH, is the Senior Manager of Global Physical Security & Safety Programs at Symantec. For over 20 years, she has been promoting workplace wellness and security, advancing employee health and safety, and stewarding social responsibility across a variety of industries. Kathryn and Symantec graciously hosted the EHSxTech fall 2018 meeting, an exclusive gathering of industry leaders to share insights and discuss common EHS challenges in technology organizations.
As the old saying goes, only two things in life are certain: death and taxes. However, I think change should be on that list too, and I think that's particularly true in EHS as a whole, and especially in industries like technology. The world is changing so fast it can feel impossible to keep up.
Conventional wisdom holds that the best way to deal with change is to be open to it—flex, adapt, go with the flow. But when I faced my own season of intense professional and personal change a few years ago, coming right to the edge of burnout, the experience taught me that there is immense value in holding fast to a few core beliefs that form a solid foundation from which you can weather the storm.
Facing a Sea Change
The disruptive forces that lead me to that point will probably sound familiar to anyone who has worked in EHS—over the course of just a couple of years, my organization dealt with executive turnover, a major divestiture, significant acquisitions, several CEOs, and more. I was juggling multiple roles at once under a new manager who, understandably, made changes to priorities and personnel, all while also in a period of disruption in my personal life. Fear and uncertainty were rampant on my team, even as resources were reallocated to reinforce the bottom line.
However, I knew I couldn't step away from my health and safety responsibilities because of resource constraints or stressful business fluctuations. For my own professional and personal well-being, and that of my team, I had to find a way. It was time to get creative. I started seeking to identify my north stars and put my focus back on them in order to block out the surrounding tempest.
Ports in the Storm
After much introspection (and lessons learned the hard way), I came to realize that, for me, there were three core principles that I needed to rely on when I was in danger of losing focus: leadership, relationships, and self-care.
1. Leadership matters. My role, at its core, is to empower employees to be responsible for their own health and wellbeing and to keep my organization safe. In the face of challenges, that meant I had to let go of completing the to-do list and accept that not everything could always get done. This freed me to lead from a place of strength and hope rather than stress and despair. I also had to come to terms with the ebb and flow of EHS resourcing common in tech companies and prepare accordingly. Riding these waves became much more manageable for me and my staff when I accepted their inevitability and had plans (and backup plans) in place.
2. Relationships are crucial. Whether internal or external, with colleagues senior or junior, it's so helpful to remember that there is no cost at all to growing and maintaining relationships, and they can be what carry you through lean times. I found particular value in spending time mentoring inexperienced (yet highly motivated) staff members. This collaboration opened up possibilities for creative problem-solving that I might not have seen on my own, and the employees' excitement helped re-ignite some of my own professional passion.
3. Self-care is vital. During my lowest points, I was suffering from anxiety, decision paralysis, and intense worry that a major incident would occur on my watch. I was not sleeping enough or eating well and my personal life suffered. I went to my manager and negotiated a short leave of absence (relying on the strong relationship I had cultivated with him) and he agreed. That time to unplug, rest, and sleep made all the difference. I returned refreshed, ready to tackle new challenges and full of new ideas and new enthusiasm.
Steady On: EHS Leadership in a Changing World
Now that I am safely on the other side, I can see that if I had given in to the prevailing winds, I would not have found a path forward. I needed anchors, principles on which to center myself and my work. For me, relying on the bedrocks of leadership, relationships, and self-care saved me from burnout and allowed me to continue doing the work that I love with renewed passion and creativity. These are my keys to EHS leadership in a changing world—yours may be different, but whatever they are, I encourage you to take the time to figure them out, and use them to hold you steady during rough seas.
Find more insights to inspire EHS leadership on our blog or learn more about EHSxTech.
About the Author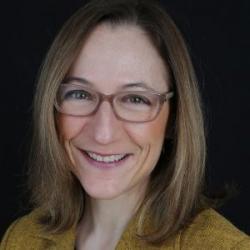 Kathryn Nobrega
Former Senior Manager, Global Physical Security & Safety Programs at Symantec
Kathryn is the former Senior Manager of Global Physical Security & Safety Programs at Symantec, and a Certified Industrial Hygienist and OH&S Systems Lead Auditor. She is passionate about promoting workplace wellness and security; advance employee health and safety; and steward social responsibility. For over 20 years, Kathryn has guided organizations to do the right thing. From the laboratory to the C-suite, she facilitates decision-making to meet legal requirements and stakeholder expectations.